Common Types of Nursing Home Abuse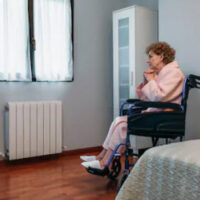 When senior citizens need round the clock care, they are often admitted to nursing homes. Family members hope that when they admit a loved one into one of these facilities, they will be treated with respect and receive the care they need. Unfortunately, this does not always happen. Understaffing, improper training, and negligent hiring are some of the main contributors to nursing home abuse. This does not mean they are an excuse.
No one should suffer at the hands of nursing home staff members. If someone you love has been harmed in a long-term care facility, you need sound legal advice. Below, our Daniel Island nursing home abuse lawyer outlines the most common types of abuse in long-term care facilities.
Physical Abuse 
Physical abuse is one of the easiest forms of abuse to detect. This type of abuse takes the form of hitting, kicking, pushing, and other types of physical harm. Physical abuse can also involve the improper use of physical or chemical restraints. The latter of these take the form of using drugs to subdue a nursing home resident.
Emotional Abuse 
Emotional abuse is much more difficult to detect than physical abuse. Under the Omnibus Adult Protection Act, emotional abuse is defined as intentionally subjecting a vulnerable adult to harassment, threats, or other types of intimidating behavior that causes humiliation, fear, agitation, degradation, confusion, or other types of emotional distress. Belittling a resident, isolating them from others, and threatening residents are common types of emotional abuse.
Sexual Abuse 
While no one wants to think about it, sexual abuse does happen in nursing homes. Sexual abuse is defined as nonconsensual sexual relations between nursing home staff members and residents, or between residents. It is important to note that many residents in nursing homes do not have the mental capacity to give consent. Nursing home staff members can be held liable for sexual abuse between residents when they did not take proper steps to prevent it from happening.
Financial Abuse 
Financial abuse can also take many forms. Nursing home personnel may enter a resident's room and steal their belongings. Or, staff members may trick nursing home residents into giving them money or changing important estate plan papers, such as a power of attorney or a will.
Neglect
 Neglect is different from intentional abuse, but it still causes serious harm. Neglect occurs when nursing home staff members are careless and do not provide residents with proper care. Neglect can take the form of withholding nutrition, water, medical treatment, or medication. Leaving residents unattended for long periods of time, failing to change bed linens or clothes, and leaving residents in one position for extensive periods are other common forms of neglect.
Our Nursing Home Abuse Lawyer in Daniel Island Can Help Your Family 
If you have a loved one you suspect was the victim of abuse or neglect, they may be entitled to financial compensation. At Fuller Law Firm, our Daniel Island nursing home abuse lawyer can investigate your case and determine who to hold liable so your family obtains the full and fair settlement they deserve. Call us now at 843-277-0013 or contact us online to request a free consultation so we can get started on your case.
Sources:
scstatehouse.gov/code/t15c038.php
scstatehouse.gov/code/t43c035.php