What is the Dog Bite Law in South Carolina?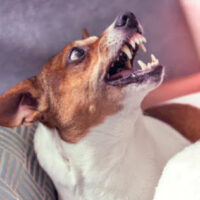 Dog bites may sound like minor events, but they are not. Dog bites can result in some of the most serious injuries including puncture marks, permanent scarring, and emotional wounds, to name just a few. While anyone can suffer these serious injuries, children are particularly susceptible. If you or someone you love has been injured by a dog bite or attack, you may be entitled to compensation. Below, our Daniel Island personal injury lawyer explains the law surrounding these cases in South Carolina.
South Carolina is a Strict Liability State 
Strict liability law governs dog bites cases in South Carolina. This means that unlike in other states, if you have been bitten by a dog you do not need to prove the dog has bitten someone in the past. You also do not have to prove the owner knew that the dog had a violent or aggressive history. You must only prove that you were bitten by the dog and sustained injuries as a result.
Exceptions to the Strict Liability Law
 While dog owners can be held strictly liable for any injury their pet caused, there are exceptions to the law. One of the main exceptions is when a victim provoked the animal. For example, a person may walk by a dog and taunt or harass them, such as by sticking their finger in the animal's face. If the dog were to bite their provoker, that is a defense for dog owners in these cases.
Dog owners are also not liable for dog bites when the victim was trespassing on their property. South Carolina property owners generally do not owe any duty of care to trespassers. Still, individuals who have a duty to enter the property, such as a mailman, may have legal options if they are bitten by a dog.
Lastly, if the dog was working in a law enforcement capacity at the time and the officers commanded the dog to bite, the victim could not file a claim. The dog must have met certification and training standards in order for this exception to apply.
What Types of Accidents Can Result in a Claim? 
When thinking about a dog attack claim, it is natural to first think of when a dog bites someone. However, there are other accidents that can also result in legal action. For example, a dog may viciously jump on someone, causing them to fall down and sustain a head injury or a broken bone. In other instances, a dog may scratch someone with their long claws, resulting in a serious infection. In these cases, victims have just as much right to file a claim as those who were bitten by a dog.
Our Personal Injury Lawyer in Daniel Island Can Uphold Your Rights 
After being bitten or attacked by a dog, you have legal rights. At Fuller Law Firm, our Daniel Island personal injury lawyer will always make sure they are upheld so you obtain the full and fair settlement you are entitled to. Call us now at 843-277-0013 or contact us online to request a free consultation and to learn more.
Source:
scstatehouse.gov/code/t47c003.php